Article about ArtPeers short-film exploring public art in Grand Rapids, Michigan
Written by Holly Bechiri
In celebration of Festival of the Art's 50th year, SideCar Studios and ArtPeers set out to explore the impact of Alexander Calder's La Grande Vitesse, the importance of public art, accessibility and arts festivals, and what we need to continue to have a vibrant arts culture for our city.

Where, even, does one start with trying to tell the story of a community? An art community? How do you encapsulate, in one short film, the arts in our city and the creative people that make it all happen? How do you represent them fully, show their impact and importance on the broader community fully, tell their history, and point to their future needs?
Well, if you're the genius behind SideCar Studios tasked with visually representing this story for Festival of the Art's Opening Ceremonies, you pull in master collaborator and storyteller Erin Wilson of ArtPeers, long-time member and promoter of the arts community in Grand Rapids. You need him to make sure the community is well-represented, with not just the big, obvious institutions, but the individuals that make the arts so rich within the community. You need him for his trust-building interviewing style and the relationships he's built up over the years that make him uniquely skilled in getting real conversations in what could otherwise be canned cheerleading. And in a project this big, with this small of a turnaround time, it's all hands on deck—so you need him to do a whole lot of running all around town to get video of the visual and performing arts, to really visually show representation of the full community.
"One of our shared goals was to represent the truly expansive composition of arts and culture leaders in the city, beyond the five or six that you might think of immediately. The spectrum of this—and we're only scratching the surface—is really far beyond what some people might imagine. There are so many parts and pieces that are required to make this place interesting." -Erin Wilson (ArtPeers)
This is the kind of story—this story of the arts community in Grand Rapids, this story that starts at "the Calder" and its early champion Nancy Mulnix; this story that includes the importance of the welcoming, open, accessible platform of arts festivals like Festival of the Arts—that requires a deep and intentional collaboration.
And that's exactly what ArtPeers and SideCar Studios have been able to pull off in their film for Festival of the Arts' 50th Anniversary Opening Ceremonies on the night of Friday, June 7.
SideCar Studios' video work for Festival started with filling the need for smaller stories, with cameo videos of Mulnix, who was instrumental in bringing La Grande Vitesse by Alexander Calder to Grand Rapids over 50 years ago, and Steve Frykholm, an iconic designer who created this year's Festival of the Arts poster. But soon enough, Josh Tyron at SideCar Studios realized there was a bigger story to tell—the story of the ecosystem of the arts in Grand Rapids.
"There is this whole level of people creating art and pushing the art community forward on a day-to-day basis. It happens every single day, in every single little corridor and pocket of this city." -Josh Tyron (Sidecar Studios)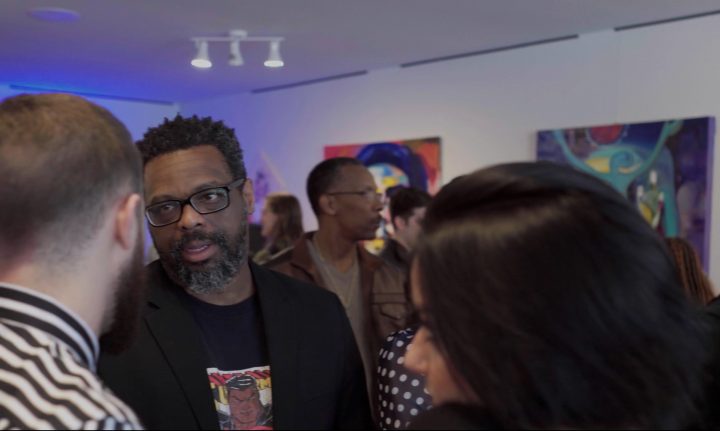 Photo by ArtPeers[/caption]
Tyron himself and his team members Raleigh Chadderdon and Kathy Kretschman Tyron are no strangers themselves to the art community. They've got years of experience capturing the stories of the arts here in Grand Rapids with their talent and dedication to the city they proudly call home.
"Festival couldn't be more honored and more grateful fo the work that Josh, Kathy, Raleigh, and Erin have done," says Executive Director David Abbott. "It's the right place for the conversation to be unveiled and continued. We're thrilled that we're the platform where they wanted to showcase it."
Tyron himself first discovered Festival when visiting Grand Rapids at the age of 16. He says that initial experience at Festival of the Arts helped him fall in love with the energy of the city.
"This is our city, we're in this 100 percent." -Tyron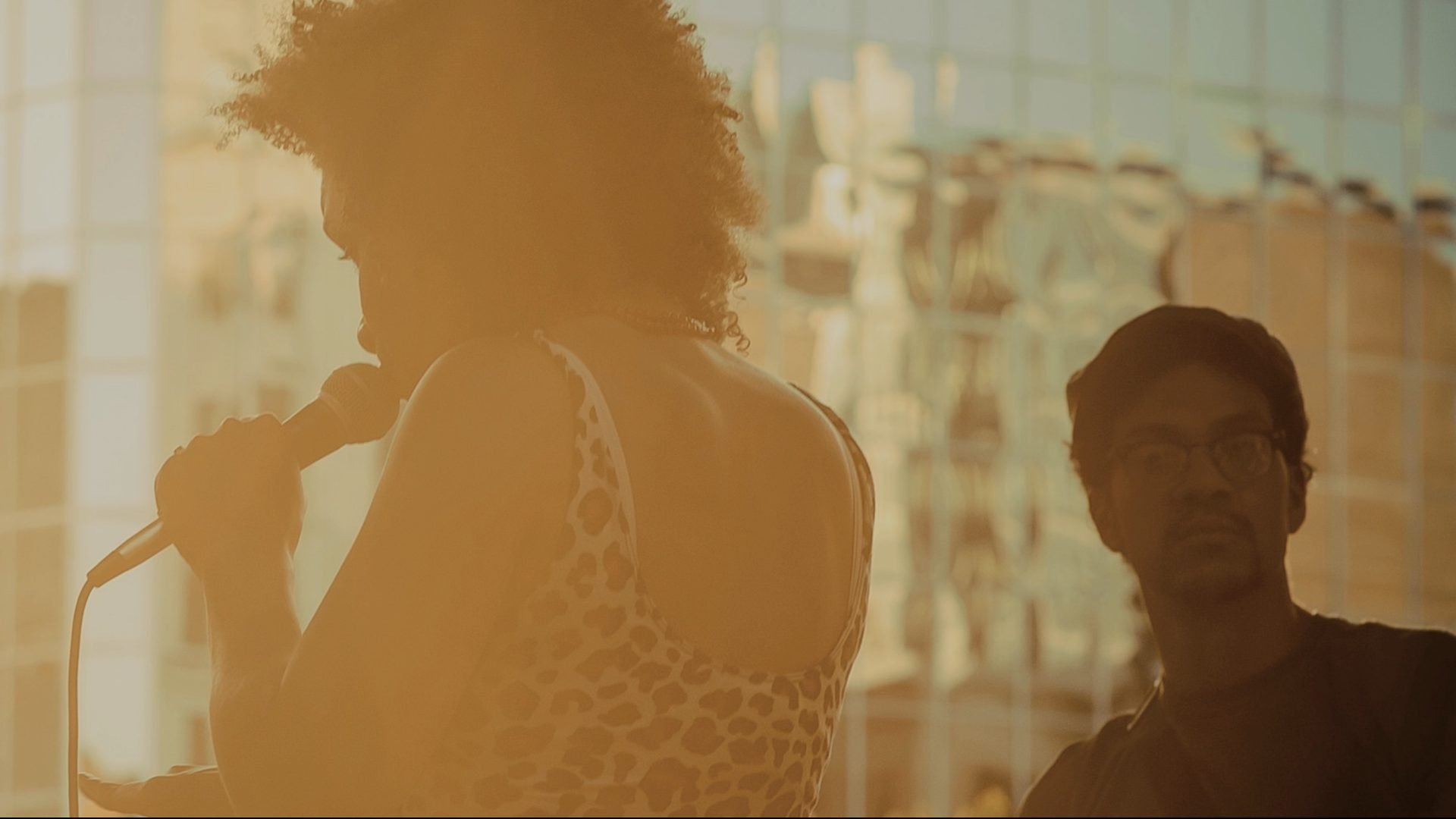 Photo by ArtPeers[/caption]
Faced with a larger story to tell—and wanting to give it that 100 percent—the talented team at SideCar pulled in ArtPeers to ensure the depth they were seeking could be found.
With the blessing from Festival leaders, who were very open to the beginning to the artistic direction and insight from SideCar, they got to work with countless conversations, interviews, and video capture of the arts happening in Grand Rapids year round, that we get to celebrate during Festival weekend each year.
"Everyone involved is very interested in letting the story tell itself," says Tyron, "as opposed to bringing in an agenda…and Festival wanted the same thing."
The story uncovered in the video starts over 50 years ago, when a small group of women lead the way to believing in the power of public art for their community, convincing Alexander Calder to create a sculpture of monumental size for their public square. They convinced the National Endowment for the Arts to fund the first public art work in their then-new Art in Public Places program. Then came the similarly momentous task of getting the community itself on board with this modern sculpture that, for whatever reason, was extremely controversial in the beginning.
"Some actually fought against it because they believed that the art elites were imposing their vision on the people of Grand Rapids—and so that's a conversation we're still having," says Miranda Krajniak, Executive Director of the Urban Institute for Contemporary Arts (UICA).
In contrast to those concerns, Mulnix and her group were aiming for the opposite of elitism, 50 years ago.
"The art would belong to all of the people, not just to a select few; it would be in the heart of a community, not isolated in some museum somewhere; it would always, in fact, and by tradition, belong to all of the people."
-Nancy Mulnix Tweddale (1969)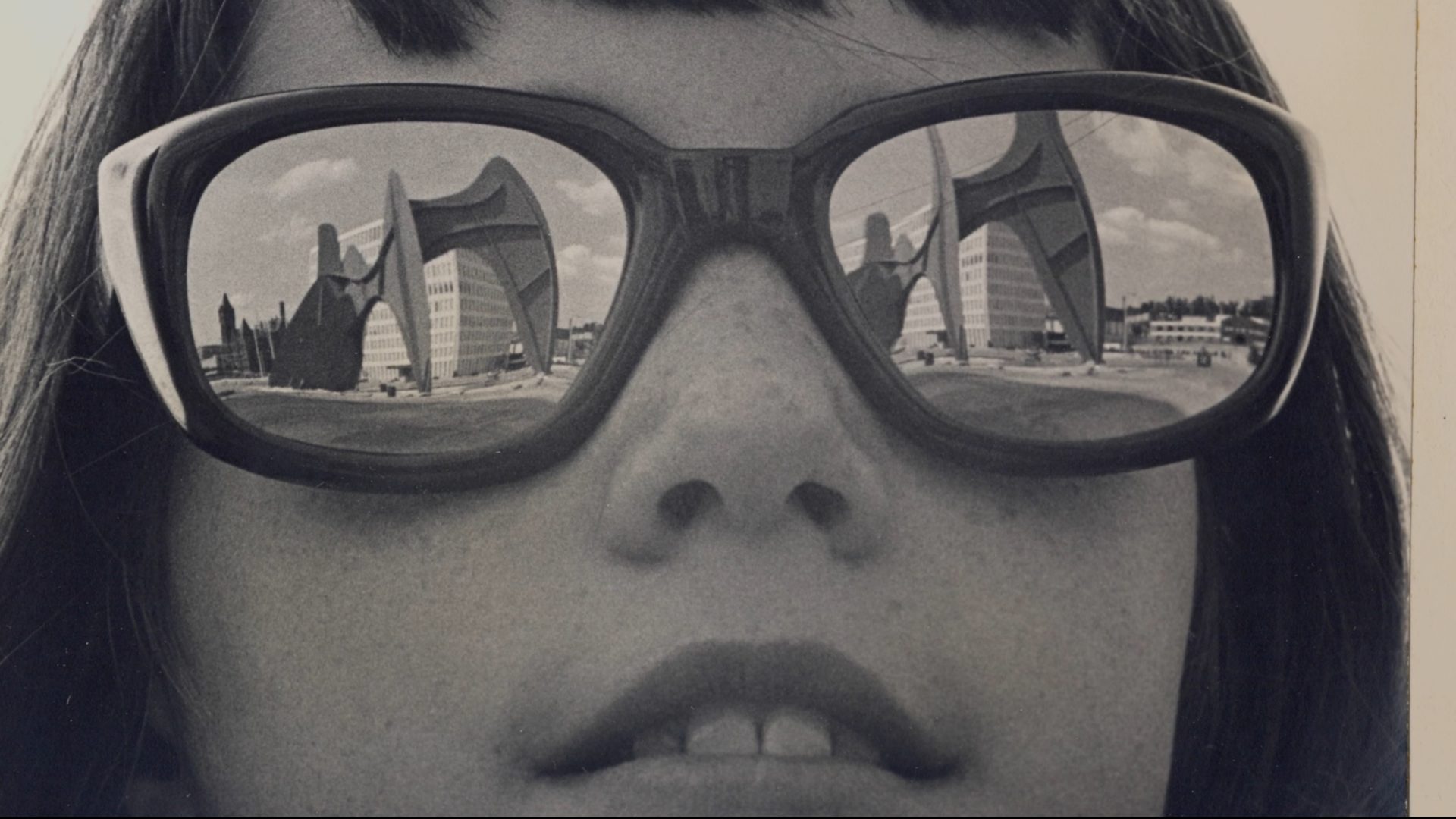 Archive Photo
Abbott echoes those sentiments, when he talks often of "art for all."
"There's no exclusivity in what we do. We work to bring everyone to the table. And we have work to do," he admits, and starts sharing big ideas for increasing inclusion with language, both in programs and signage as well as on the stages. "That's work that we have in place to get started next year. The important thing is that we put art out there for the broad community to experience, and let them have the conversations about it. It's not going to be the same for everybody, but it needs to be accessible, public, and for everyone to experience."
As we know, says Abbott, people have different ideas about art—just as they did 50 years ago when Calder's "La Grande Vitesse" arrived in town.
"It's interesting to think about what has now become safe art, ingrained in our community." -Tyron
"I mean (renderings of La Grand Vitesse) are everywhere now—it's on our garbage cans!" Tyron says. "So it's an interesting study in what 50 years of art in a community can do."
From there the video takes us on the journey to the Calder becoming the backdrop for one of our most beloved arts festivals, the Festival of the Arts, who first brought their celebration of the arts to downtown on the one year anniversary of La Grande Vitesse's dedication, 50 years ago. Festival, ever since, has been bringing art to the community with "the Calder" as its backdrop.
"Public art is the center-point of that, creating a community that happens around it," says John VanderHaagen of Frederik Meijer Gardens & Sculpture Park.
Between our 51 years of learning to embrace public art, and our 50 years of Festival of the Arts reminding us to celebrate—and build access to—the visual and performing arts, Grand Rapids has created a unique culture of appreciation for the arts. The next step is to advance a culture that values the artists who make it, according to those interviewed in the film.
Photo by ArtPeers[/caption]
"It's really a culture that values and appreciates art, and elevates it, and creates additional spaces for creative work to be done. And I don't see that happening all the time in cities. It creates a city that's very open to trying new things, taking risks, and giving people, especially creative people, the opportunity to express themselves in many different ways, in many different forms. And I think that's what makes us really special." -Rosalynn Bliss (Grand Rapids Mayor)
There is still work to be done.
"On a regular daily basis, we're working on placemaking initiatives and public art initiatives," says Kim Van Driel, Director of Public Space Management with Downtown Grand Rapids Inc. (DGRI). "Anything new is sometimes a little scary and there might not be a process for it, and ruffling up some feathers and challenging the way things are done. Sometimes challenging that and pushing forward is hard to do, and it's exhausting, but… Taking risks is where the magic really happens—in everything. It creates something new and it's challenging but an exciting challenge that everyone should try to take on."
There are a million examples of that openness and really, the courage to let people try new ideas, when it could be taken over by fear and bureaucracy.  Fear is what causes cities and organizations to stop having an identity, and become like everyone else. But without qualification, Grand Rapids has been amazing at letting creative people try out their ideas. That is a very precious commodity." -Wilson
Our mayor sees it as part of her job to protect and strength that precious commodity.
"[Acquiring the Alexander Calder sculpture] happened because you had people who loved our city, who had a vision, who brought people together and were able to attract this amazing artist to come to our city with this beautiful public art piece," says Mayor Bliss. "They were a part of our history but also a part of creating this culture in our city where there is an appreciation for art.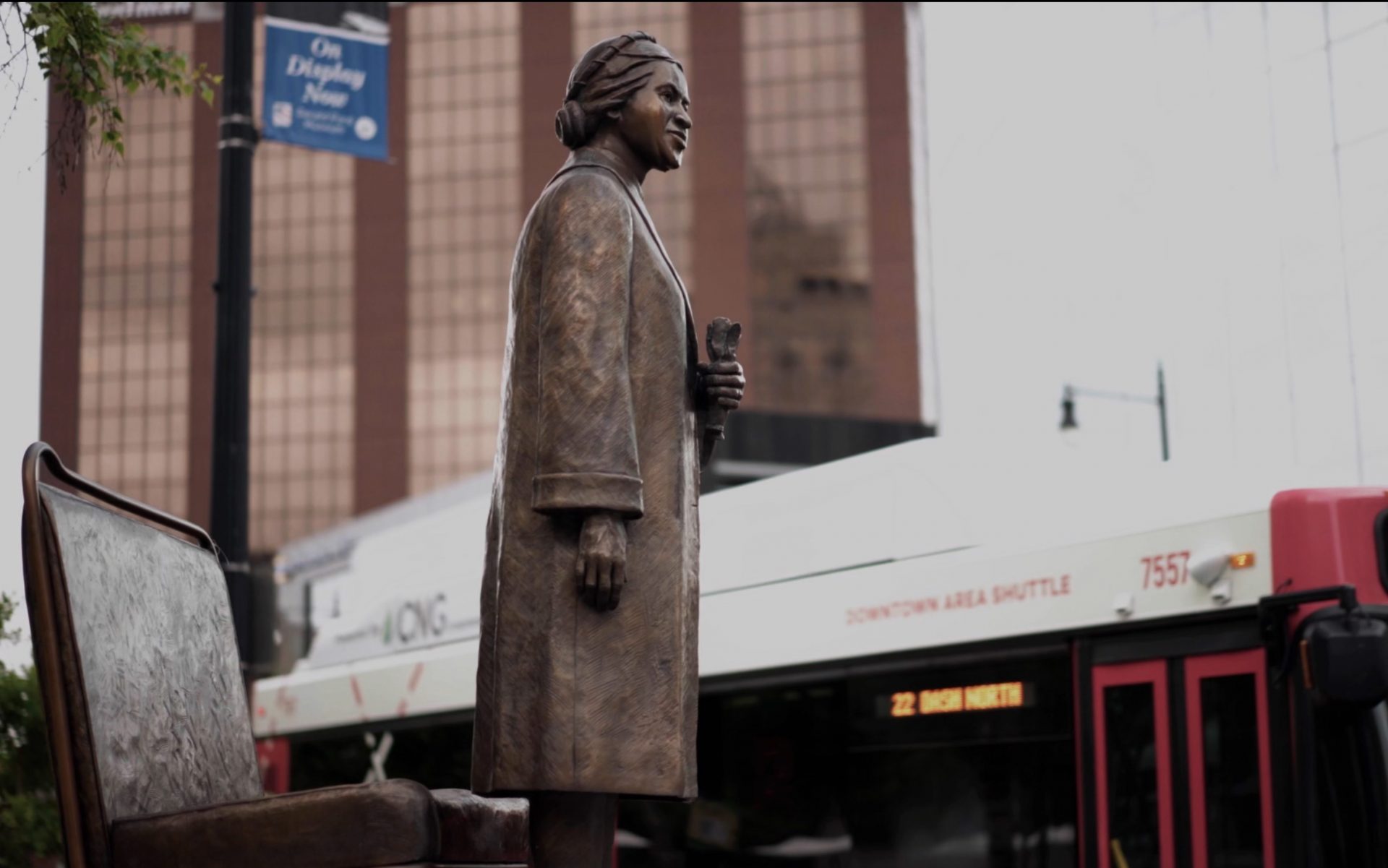 Photo by Sidecar Studios[/caption]
I often feel like there is this strong legacy that I feel this incredible responsibility to carry on and to promote, and to really expand—and to do it in a way that is aligned with our values as a community around being inclusive and welcoming. And art is absolutely integrative in making sure that we are an inclusive and welcoming city." -Rosalynn Bliss (Grand Rapids Mayor)
All this—the praise for Calder's work, the praise for the importance of public art, for artists and the vibrancy and conversations they bring to our community, for how we wouldn't be the same without them and their work—it comes with a need for investment. That art community that this video showcases: it needs support. And it doesn't just need praise. Artists, just like you and I, have an electric bill to pay. They need to get uniforms for their kids for school. They would like to exist on more than ramen noodles.
And so, this story of the local art community fittingly ends with a call for what we need for the future. It reminds us how we can keep this legacy, this gift, this vibrancy going.
"If we want to continue to grow as an arts community," says Van Driel, "it's extremely important that we're paying our artists so that we don't leave our community."
"One common point raised in many of the interviews and conversations held in the creation of this video… is the need for our community to value our artists as much as we value art." -Wilson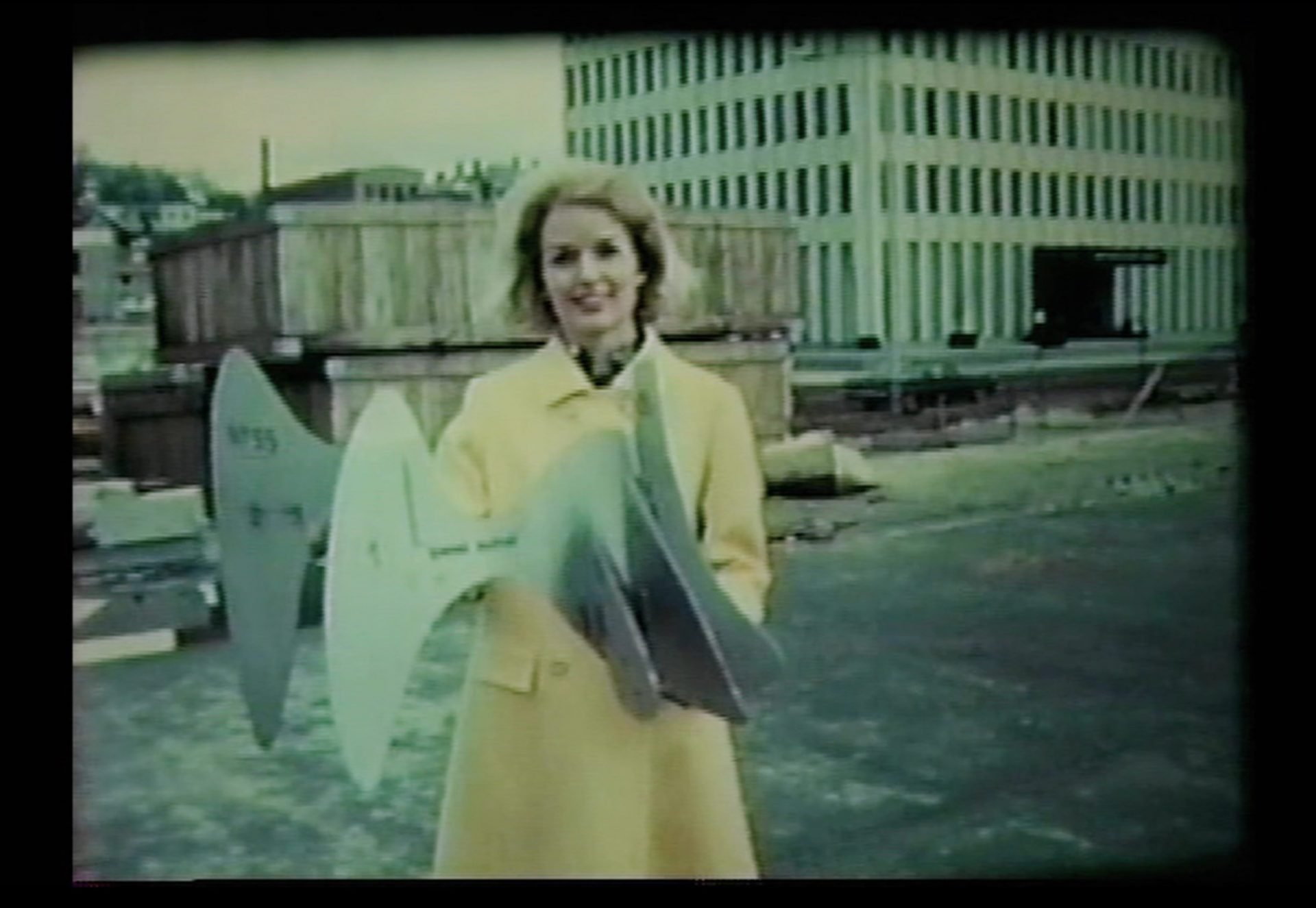 Archive Photo[/caption]
Paying your creators, paying your storytellers, paying your visionaries: it's the only way the visions and the stories can continue to get created.
And when they're created with the level of skill and beauty, with the kind of care and inclusion and fullness that SideCar and ArtPeers were able to together create in this video, we can all agree that the investment in the arts has a generous ROI—for everyone in our communities.
As we are seeing everywhere from Festival this year, this video from SideCar Studios and ArtPeers is yet another reminder that the goal is art for all.
About the live screening 6/7/19
An early version of "The Great Swiftness" debuted at the opening ceremony for the 50th anniversary of Festival of the Arts, June 7th.
In order to make the public screening more unique, Sidecar Studios and ArtPeers asked musicians from Bedrock: The Foundation to live-score the premiere, as the film played for the first time. Bedrock answered the call, and Festival live production director Keith Oberfeld (KBO Group) said "that sounds like a great idea!"
Pro Sound agreed to multi-track record the live-score as the engineered the mix from Calder Stage. ArtPeers collaborator Alex Hamel mixed down the live recording.
"The music you hear in the final version is the score Bedrock created live at the Calder screening," says Wilson. "It was perfect."
Bedrock is: Rodney Rhodes (keyboards); Kamyle Jackson (bass); Orlando James (drums); and Mel V (guitar).