[ARTICLE] Cultural identity and the power of pride (Feb. 24-25, 2019)
First, a confession: The first thing I paid attention to on Monday morning was on Instagram: a photo of a little girl named Clara, screaming into the camera with glee, sporting a "beauty is found within" t-shirt and her natural, tightly-coiled short hair.
Once I could pull my eyes away from her in all her glory, I went to see the rest of the photos on the ArtPeers Instagram account. They had been shared in real time throughout Sunday's photo shoot for "I Rock My Own," a public art project consisting of a pair of events. The events were created to celebrate the natural hair movement and to balance the scales of representation in media.
Despite the high winds and fake meteorological scare tactics on Sunday, hundreds of portraits were created as Grand Rapidians turned out by the dozens, all day long, to get a free portrait done in a room filled with some of the best portrait photographers in town, like ArtPrize winner Monroe A. O'Bryant, who also participated Monday night as a panelist, GreenFrog co-owner Seth Thompson, and SideCar Studios owner Josh Tyron.
The room, with the Blue Bridge in the background and enough photographers and photography gear to outfit a high fashion shoot, had a certain energy to it that I was still floating on the next day. I had witnessed stories of power and value, a different story than we all too often see about Black identity.
There are plenty of stories to tell of a Black person being told they have to present themselves according to white standards of beauty, of being told to change their hair for their job. The stories of racist responses to something as seemingly harmless as hair, and how it could possibly affect one's ability to do one's job at least, are myriad.
But Sunday's photo shoot and Monday's panel discussion, moderated by Jeremiah White, were full of a different kind of story. Sure, they were not shying away from the truth of those stories, the truth of the fight to be able to love yourself for who you are when you're Black in America, Black in Grand Rapids. But there was a beautiful, powerful energy at both the photo shoot and the panel discussion. That energy was created by stories of freedom, of liberation, of respect, of identity, of believing in their own beauty.
A beauty that, not all that long ago, was illegal in some parts of this country. The Tignon Laws, enacted in 1786 in Louisiana, required Black women to cover their hair. Historian and author  Virginia M. Gould says these laws were created "to return the free women of color, visibly and symbolically, to the subordinate and inferior status associated with slavery." The policing of Black hair continues today—in sports, in schools, in corporate America.
I ROCK MY OWN: Panel Discussion
MUSE Gallery – February 25, 2019
Monday night, in Grand Rapids of all places, a community gathered together at Black-owned art gallery and event space Muse to not only see the photos from this year's and last year's photos shoots, but most importantly to share the stories of the power of rocking their natural hair. More than a little bit of reclaiming and revolution happened that night. We had "natural hair church," and it was good to be surrounded by such beauty.
Take the testimony (since we're talking church here) of Josephine White, one of the panelists and owner of JoJo's House of Beauty.
"When I was growing up, I didn't love my skin; I didn't love who I am," she says. "As a Black woman, especially in Grand Rapids, you most definitely know that you're Black. But I'm learning that I'm beautiful in spite of whatever anyone else thinks of me. And that I can wear my hair however I want to. I'm thankful that God put me in an industry where I have to look in the mirror every day. I have to see myself. Because when I was younger, I didn't want to see myself."
Erika Bailey, whose own natural is a beautiful hair-free head that shows off her facial features, says that when she first lost her hair, she was wearing wigs. But soon, she says, she had to be free in who she is.
"Being Black in America, you have to be able to deal with the stereotypes that comes with how beauty is defined," she says. "A wig to me felt like I was hiding myself." So Erika had to face her fear of what people would think about whether or not she fit into the standards and norms of beauty, and decided to just be herself. "It was a very scary thing…I knew that there were opportunities for criticism, rejection, ridicule… all of these things that can come with being who I naturally am—but with that is also the opportunity that I'm going to be brave; I'm going to be strong; I'm going to be courageous; and I am going to embody everything that I see in my sisters. I wanted to be free."
She faced her fears, and decided to embrace her natural, true, free self, and says leaving the wigs behind has given her chances to help others on their own journeys of being secure in who they are, too.
"Face your fears," she says, "because on the other side of your fear is opportunity."
Amber Ferguson, who's been charting her natural hair journey on Instagram at @amberjanielle, faced her own fears with a big chop in 2012. A "big chop" is when someone cuts off all the hair that's been relaxed or processed, which usually means cutting it pretty short, to speed up the process of "going natural." Amber had never had natural hair before, and says she never really had a very good self-image either. Though a big chop is not for everyone, and is often a very emotional experience, for Amber those emotions were positive.
"It was the most liberating experience of my life." She says her journey to natural hair resulted in "finding community again, finding myself, finding my voice."
That voice, that embracing of natural hair, is especially important, said many, for the next generation. Accepting natural Black hair, or as panelist and historian Jewelynne Richardson, (Momma Jewel) explained, hair that comes from the "African descent culture," is a visual symbol of accepting oneself.
"It is a representation of who you are; it is a power movement of us as a people; it is a respect,"  says Jewel. "This is a time for us to be able to reestablish respect for us as Africans and African descendants."
Tami Jackson, who was volunteering at the photo shoot, not only is an experienced natural hair technician, but she also has her own natural hair product she's developed, called Mahogany Girls. Tami says she wanted to help with the event because she thinks it's important to encourage others to have hair that represents who they are.
"It shows confidence, resilience. It shows the bottom line of who a person is and what they represent," she says. Tami stresses that there's an element of choosing natural hair that means facing your fears and choosing instead to "be your own person, confident in who you are."
The panel discussion was hosted at Muse, says co-owner Stephen Smith, because the event aligns with what they value. He got his picture taken at the photo shoot, too, because he says he wanted something to mark what he sees as an important moment for the Black community in Grand Rapids.
"To us, identity is really important—and hair helps with identity," he says. "[Natural hair] shows that you have pride in who you are, that you value what you have."
All these powerful messages, and so many kids attending both events to soak them in. I couldn't help but notice how many parents brought their kids to show off their natural hair at the photo shoot. From babies to teens, every one of those children, that next generation, stood in front of the camera with this beautiful pride, a pride hard-earned for the Black community— a pride well deserved. 
Even the panel discussion event, perhaps not what you might immediately respond to with the thought, "this would be fun for my child," was full of kids—notably plenty of preteens and teenagers.
"I'm thankful that the younger kids can have a different experience than my experience," says Josephine. "I'm thankful that when I have my daughter, I can tell her that she's beautiful, and I can help her understand her hair." 
Quana O'Bryan, who came for the photo shoot Sunday afternoon after seeing it shared on Facebook, says she wanted to be part of showcasing the beauty of natural hair.
"The pressure from society has caused us to put more focus on mainstream standards," she says. "It's important to learn more, and to share in a discussion to really see the origins of natural hair and how beautiful it can be—without that pressure from society."
Both the photo shoot and the panel discussion were full of people showing that they weren't giving into that pressure. They were done believing the lies about their worth and whether they measured up to standards of beauty. 
Instead, story after story shared spoke of the importance of owning their own unique selves, their own histories, their own worth. The panel discussion event was packed—and full of people sharing their own journeys with natural hair. There were many different experiences, many different reasons for going natural. Over and over, within all those reasons reverberated two common themes: being yourself, and the necessity of showing that pride in self to the next generation. I sat there, realizing I was in the middle of something important.
Sure, whatever, tell me I'm getting emotional over… hair. But these two days, I was surrounded by stories of embracing your own beauty, and who you were made to be. I was surrounded by stories of not hiding your natural beauty, owning your identity, and finding yourself valuable—in a world that tries to tell you otherwise. 
In a city, in fact, that tells you otherwise, daily. Grand Rapids, let us not forget, earned a reputation as the second-worst city for African Americans according to Forbes less than four years ago. You don't have to spend much time with your Black neighbors to get plenty of confirmation that Forbes got it right.
So this isn't just about hair. The natural hair movement is a statement; it's a revolution. It's a statement that not only affects our generation but, as Monroe put it, plants seeds for the next generation to have pride in who they are—and know that they are truly valuable, just as they are.
"It's a revolution, a premise of identification," says Monroe. "It's power."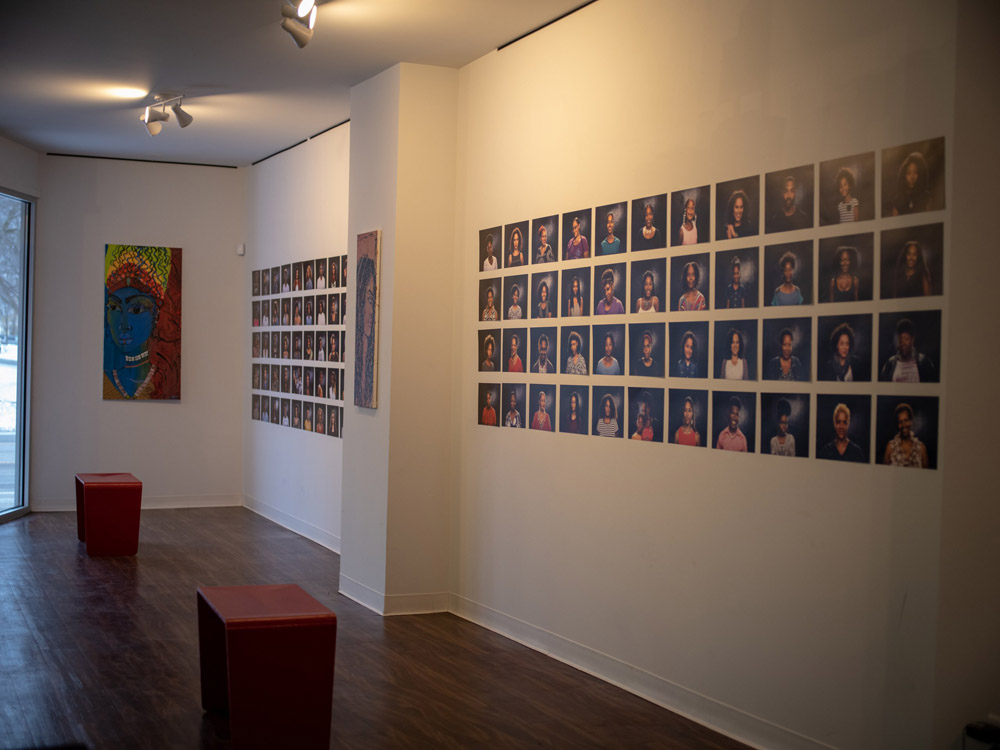 See the growing gallery of images from Sunday's photo shoot here.
I Rock My Own
February 24-25
A public art project in Grand Rapids, Michigan
An essential side note about the power of this event—its authenticity, its ownership within the community it was designed to serve: this was possible thanks to to two important, and unfortunately very rare, considerations. First, years have been invested into building relationships throughout the community. These were not new relationships built for this particular event. Second, leadership and partnership was held from within the community to benefit, rather than ArtPeers insisting on maintaining control and leadership, but instead developing a strong list of true collaborators. This is why the events worked: they were lead by people of color, to benefit people of color, and supported with longstanding relationships of trust.
We need more of this kind of real partnership in Grand Rapids.
-Holly Bechiri
I ROCK MY OWN co-creators:
ArtPeers
Natural Hair GR
Aurikk Brand Movement
JoJo's House of Beauty
Muse GR
DeVos Place & Convention Center
Holland Litho Printing Services
A Fearless Brother Project
SideCar Studios
The City of Grand Rapids
Downtown Grand Rapids, Inc. (DGRI)
Mobile GR and Parking Services
Goodrich Quality Theatres, Inc.
Detroit Natural Hair Expo
Ultimate Natural Hair Tour
Naturals United
Nourish Your Curls Boutique
Avanti Law Group, PLLC
Harmony Beauty Co.
Wege Foundation
A look back: The first I ROCK MY OWN community event began as a grassroots collaboration with Natural Hair GR and ArtPeers, quickly growing to include many more partners – leading to the first natural hair portrait project, which took place at Wealthy Theatre, resulting in the images below.
[rev_slider alias="irmo-gallery-720p"]